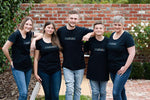 Building a family business and brand
I had this strong urge to write this post today and to be 'raw'.
The past 20 odd months bringing Muluzu to you has not been easy, that's for sure.
In all honesty the product idea was the smoothest part. Kyle had a sleep problem when he was younger. He was able to recall what eventually helped and Samara was able to bring a solution through talented creativity. That was where the smooth sailing finished.
Whilst it has been the best opportunity and set a solid foundation to introduce Samara and Kyle on how to build a business and brand, it's been tiring and damn hard! Hours and hours of unpaid time, late nights, countless courses, endless phone calls, emails, negotiations, content writing, photographs, social media and mentoring.
Navigating the world of online isn't for the faint hearted. Further to the added stresses, I'm a single mum and a shift worker.
Whilst the above is the challenging stuff, there are plenty of positives too.
I am so blessed to have my wonderful kids step up and put their time and effort into building Muluzu also. None of this was ever left wholly in my lap. Every family member has played their part, even with their own busy lives. Jord is a full-time law student and also a part-time paralegal, Cody has his own cabinet making business and Samara and Kyle catch a bus at 7am in the morning to travel into the city for school and return home each night at 5pm, not to forget their extra-curricular activities. Some evenings when I got in the door from work, I would find Samara and Kyle at the computer working on tasks, Jord taking pictures and writing or Cody sitting with everyone going through measurements and discussing ideas. It's the team effort, the belief and the determination to bring Muluzu to you that kept us going.
Our Muluzu crew are also incredibly lucky to have a wonderful external team working with us and supporting our brand too. I am so grateful and thankful for them!
I have to say, even with all the hustle and bustle, at no point did we ever think about quitting or giving up. Yes, there were moments of meltdowns and quite possibly overwhelm, especially when issues were out of my control, or I just didn't understand how things rolled.
And to our beautiful followers, your support and feedback has been mind blowing! What an incredible community we have around us. You make us smile every day.
No matter where you are in this world, or what point you are at in your life, if you have a dream you believe in, follow it.
❤❤